Places to see
Wildflowers
Wildflowers is one of the main reasons people visit Mingenew.We have a number of walks and parks for visitors to stop at to find some unique wildflowers. Go to our Wildflower page under the Tourist Information tab to read about the different locations and for a list of some of the wildflowers you may find.
USN Tracking Station
Part of the Universal Space Network, the ground station was founded by former astronaut Peter Conrad. Data and pictures are usually available to the public 15 minutes after being downloaded.
---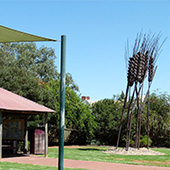 Cecil Newton Park
The Park is located between the hotel and the bakery on Midlands Rd. It is green all year round with bbq facilities and plenty of shade. It is also home to the wheat stalks, reffered to as the 'Big Ears' by locals.

Their is also a display of tourist related information under the gazebo.
---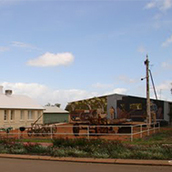 Historical Museum
From 1894 - 1960, this was the original Mingenew Priomary School. It is opposite the Shire offices. Operated by local volunteers, the museum showcases some interesting artefacts and machinery from Mingenews history and development since the 1850's.
---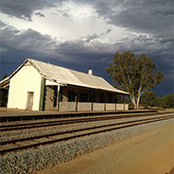 Old Railway Station
Opened for business on 24th November 1894, the station was built from stone from the local quary. A portion of the building was demolished in 1974, the remaining building is now being used by the MIngenew Arts & Crafts Council.
---